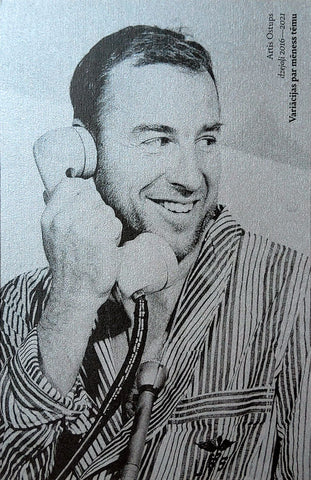 Variations on the Theme of the Moon
Artis Ostups
It has been six years since the publication of the collection of poems "Gestures" by the poet and literary scholar Artis Ostups. And now we announce Ostup's newest, fourth collection of poems "Variations on the Theme of the Moon".
As I wrote "Variations on a Theme of the Moon", I seeked a balance between truthfulness and imagery. A few years ago, it would still be self-evident, but in today's Latvian poetry landscape, where imagery is more and more often opposed to truth, it seems like an adventure to write in this way. At the same time, this collection is a synthesis of my previous poetic searches: poetry, verses, melancholy, sincerity, everyday observations and intertextual experiments. And all this through the plastic image of the "moon", which connects my poetry with a broader tradition of lyrical poetry, while continuing and exhausting it.

Artis Ostups
The editor of the collection, poet and literary researcher Kārlis Vērdiņš, points out: "Artis Ostups has diversified the formal side of poetry in his new collection. He has added a more active use of the visual element to his concentrated, extremely extensive use of language, which refreshes and diversifies the message of his poetry. Without losing any of the qualities of the previous collection, the poet also shows interest in the experiment, thus surprising the reader."
Ostup's collections of poems have received and been nominated for various Latvian literature awards. His works have been translated into English, German, Russian, French, Czech, Slovenian, Croatian and Lithuanian. In 2018, the US publishing house Ugly Duckling Presse published a translation of the collection "Gestures".