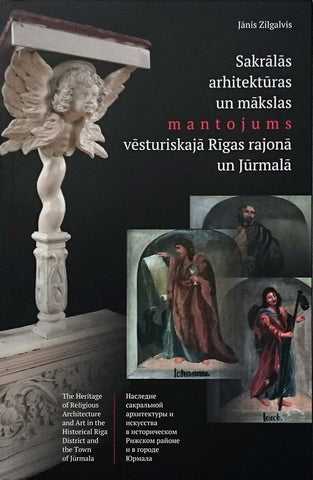 The Heritage of Religious Architecture and Art in the Historical Riga District and the Town of Jūrmala
Jānis Zilgalvis
The latest edition in the series "Monuments of Art in Latvia" is devoted to the rich heritage of the religious architecture and art of the historical Riga District and the town of Jūrmala. The area includes religious sites of all major traditional denominations – Lutheran, Catholic, Orthodox, as well as the Jewish faithful, and the book gives particular attention to the architecture and art of these churches.
Within the historical boundaries of the Riga region, the book deals with 21 churches, but the religious heritage of Jūrmala is represented by 11 objects in the administrative boundaries of the city. Over the course of time several churches have been destroyed or else they are preserved only partially; and although the information is in many cases very limited, such sites are also included in the book.
The book includes bibliography, a glossary of architectural, art and church terminology as well as summaries of the texts in English and Russian.
The book series "Monuments of Art in Latvia", dedicated to the cultural heritage, provides a comprehensive, focused information on houses of worship of various denominations, their architecture and objects of art and crafts.